Recently we were blessed by the presence of Swamiji – the founder of Yoga in Daily Life, here in our centre on the Sunshine Coast. It was such a wonderful weekend shared by the many who attended.
The weekend started with a satsang to welcome Swamiji on the Friday night, starting with bajans lead by Prakash and the band, until Swamiji's arrival. The centre looked beautiful adorned with flowers and set up for Swamiji to be our focal point.
Each night Swamiji lead satsang, imparting ancient yogic knowledge, stories and bajans - still so applicable to our modern lives. Meanwhile Swamiji's evening lectures were telecast all over the world to his global followers.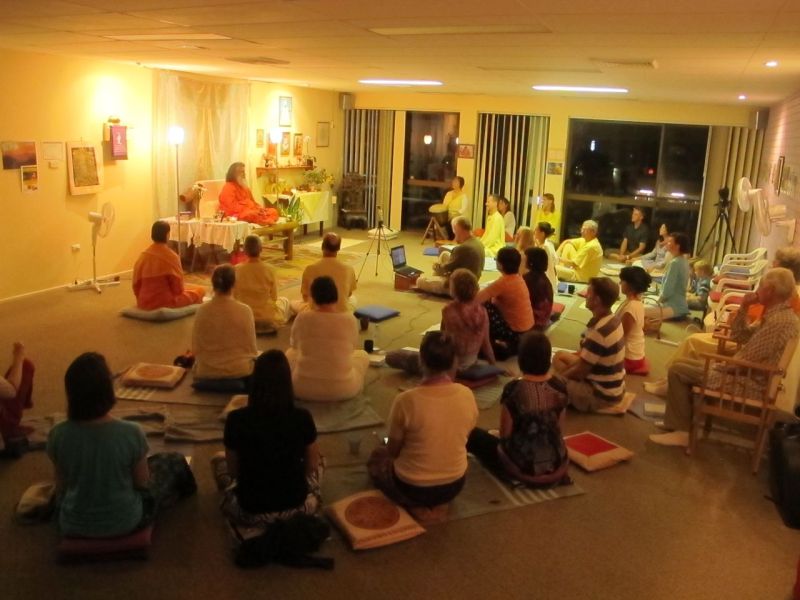 After his lecture we all enjoyed a cup of delicious chai and something sweet, then prayer, lead by Swamiji.
The day programs consisted of Swamiji speaking about aspects of Yoga in our daily lives, yoga classes, guided meditations, yoga nidra and delicious vegetarian lunch shared and enjoyed by all.
Everyone, whether long time bhaktas, or first timers took some precious advice away from his teachings.
We wish him well on his onward journey and hope he will return soon.