Last month our ears, hearts and souls were treated to the divine music of Swami Madhuram and his ethereal bansuri flute.
What is Nada Yoga?
Nada Yoga essentially means "union through sound". It is based on the premise that the entire universe, including human beings, consists of sound vibrations, called nāda. This system holds that it is sound energy in motion rather than matter and particles which form the building blocks of the cosmos.*
Meditation on Sound
Continuing the idea that we are composed of sound energy, it is not surprising that humans, animals and even plants respond favourably to music. Above the pleasure derived from sound and music is the potential for it to provide a medium for achieving higher states of consciousness.
On an everyday level, nada yoga can assist us all to become calmer and more peaceful, allowing a pervading feeling of contentment and success in given pursuits.
A Weekend of Sound Waves
We were lucky to have Swami Madhuram on the Sunshine Coast for a number of performances. First during the relaxation component of the Thursday class, then during both a dedicated evening program, and also during satsang on the following night.
Here are a few pics from the weekend: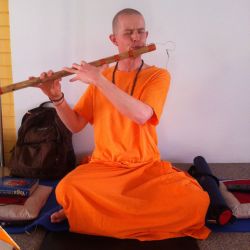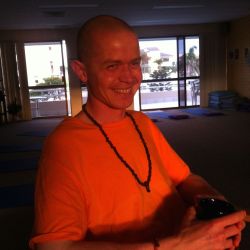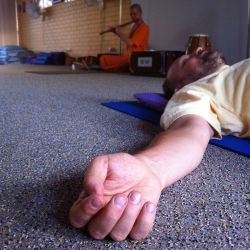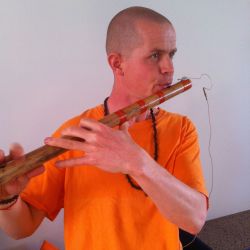 SWAMI MADHURAM
is the long-time disciple of Paramahans Swami Maheshwarananda, author of the Scientific System of Yoga in Daily Life. His music is blessed by the light of Bhagwan Sri Deep Mahaprabhuji, the master of our spiritual lineage, Sri Alakhpuriji Siddha Peeth Parmapara.
He has recorded a number of transporting CDs available in the centre.



* http://en.wikipedia.org/wiki/Nāda_yoga