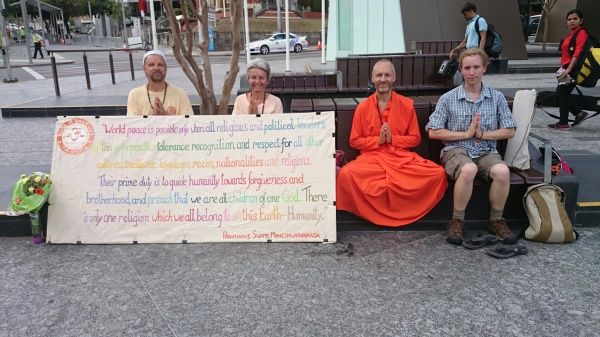 With Swamiji's inspiration and guidance, Bhaktas of the Brisbane Yoga in
Daily Life Ashram organised the above sign and sat peacefully at various
locations in the city of Brisbane during the peaceful proceedings of the G20.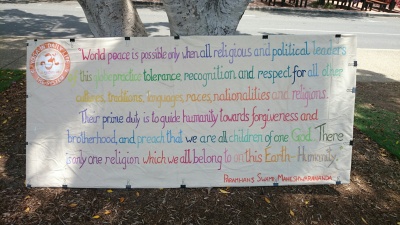 The temperature was above 40c during the whole weekend! Congratulations
to their dedication!

Tyagapuriji and I joined later in the afternoon. M
any saw the sign and
smiled, nodding in agreement.

We were lucky enough to spot the Mayor of the Sunshine Coast who was at
the square, waiting to join the function with the Indian Prime Minister.




We had some discussions on the necessity of the unity of all religions, very
appropriate as there is some upset about the planned building of a mosque in
Maroochydore. We invited him for further discussions with Swamiji during
His visit on the Sunshine Coast in February. Mark tweeted this photo
mentioning Yoga in Daily Life and a slogan for "unity of all religions".

Just in case you were wondering what we do on Sundays!

With love

Karma Sannyasis Yamuna and Tyagapuri