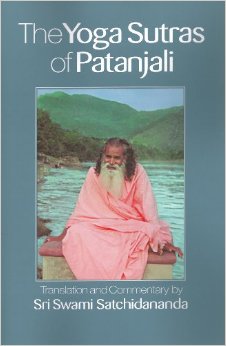 The Yoga Sutras of Patanjali
~ Translation & Commentary by Sri Swami Satchidananda
Patanjali's Yoga Sutras are a collection of short aphorisms or truths that are intended as a practical instruction manual towards gaining enlightenment.
Although they are short, they are profound and for most of us, require explanation by a self-realised being.
This translation & commentary by Sri Swami Satchidananda is accessible, wise and makes these ancient teachings relevant to our modern context.
Here are a few of my personal highlights from Sw Satchidananda's commentary:
'One truth, many paths.'
I love this. In a time of widespread prejudice, misunderstanding and intolerance; it's important to remember that there are many different roads to the same destination.
'Let us all dedicate our lives for the sake of the entire humanity. With every minute, every breath, every atom of our bodies we should repeat this mantra: "dedication, dedication, giving, giving, loving, loving.' "
This may sound like a lofty ideal, and truthfully it's not an easy concept to take on. We live in a capitalist society and receive an education that teaches us to look after our own interests. But where this leads many is to feelings of depression, disillusionment and an aimless feeling of purposelessness. Ultimately when we only serve ourselves we find emptiness. One desire is satisfied, one goal achieved and then we find underneath a constant feeling of dissatisfaction. When we take the emphasis off ourselves and do what we can for the good of others, life becomes rich and satisfying.
'No one can ever give us happiness or unhappiness but can only reflect or distort our own inner happiness.'
When we truly come to embrace this fact, we take full responsibility for our own happiness and experience of life. We always have the choice of how to react to a certain situation.
'Contentment means just to be as we are without going to outside things for our happiness. If something comes, we let it come. If not, it doesn't matter. Contentment means neither to like nor dislike.'
This quote, although from the commentary of a different aphorism to the above makes a nice addition. It's almost like the next level. First we don't look to outside things for happiness, and not only that, but we feel content irregardless of what occurs. In other words, we realise that we have a calm state of inner contentment always, regardless of what may be happening externally. This is tricky to master in each moment, but potentially a revolution for inner being!
'Adapt, adjust, accommodate. Bear insult. Bear injury.'
This is not easy, that's for sure. But when we can do this, we avoid the further punishment of our own negative reactions… We become like water. Things pass through us, rather than shattering us.
There are many more insightful, and most importantly useful words in this wonderful book. Highly recommended.
~ Gangotri



On sale in the centre for $35