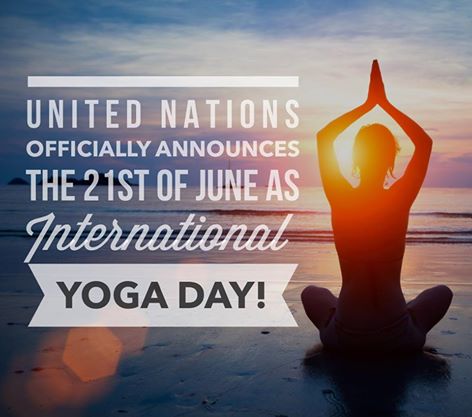 On the 11 December 2014 - June 21 was declared as the International Day of Yoga by the United Nations General Assembly.

This specific day was suggested by the Indian Prime Minister - Narendra Modi in his UN Address as it is the Solstice (longest day in the northern hemisphere and shortest day in the southern hemisphere.)

It is a significant day in many countries and cultures. From the perspective of yoga, the first full moon after this solstice marks the day of Gurupurnima (a day when we pay or respects to all our teachers.)

The declaration came after Prime Minister Modi's inspiring speech to UN General Assembly wherein he stated:

"Yoga is an invaluable gift of India's ancient tradition. This tradition is 5000 years old. It embodies unity of mind and body; thought and action; restraint and fulfilment; harmony between man and nature; a holistic approach to health and wellbeing. It is not about exercise but to discover the sense of oneness with yourself, the world and nature. By changing our lifestyle and creating consciousness, it can help us deal with climate change."

SUNSHINE COAST CELEBRATIONS

To celebrate the first International Day of Yoga we held a beautiful nature inspired morning at Mudjimba North Shore.

Our idea was to give people the opportunity to practice in nature.

We were blessed with a perfectly crisp, clear, sunny winter's morning.

We started the day with a short introduction to the meaning of 'mauna' (inward and outward silence) and a contemplative beach walk.

After that we gathered on the lawn near the beach for some simple stretches, manipura activating postures, balances and a few rounds of Khatu Pranam.


The real treat was to practise Prathyahara and to drop inside despite the social commotions going
on with many people, kids and dogs enjoying a sunny winters day on the beach.
We first paid attention to the loudest noise (plane), then less noisy and so on, till we arrived inside
just "hearing" the sound of our own breath and heartbeat.
It was a special opportunity to be outdoors, surrounded by nature and prakriti (energy).

We finished with a shared picnic on the grass.